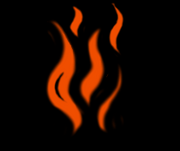 Thermokinesis is the ability to manipulate temperature, usually to generate heat.
Hydro-Thermokinesis
Edit
Hydro-Thermokinesis is the ability to heat water, whether to boiling or evaporation. It is associated with the element of fire, and a popular mermaid power, particularly since it can be used to dry off one's tail rapidly.
Known Users
Edit
Pyrokinesis
Edit
The ability to generate fire; typically used as an "upgrade" of Hydro-Thermokinesis.
Known Users
Edit