Our Scaly Secret is a mermaid show posted on the channel agmermaidlover2000, which has been deleted in its fourth season.
Waking up after a weird dream, a girl seems to find mermaids wherever she looks. Going outside, she discovers a sunshower, and falls into a pool.
Tori as Annalise
Emma as Lauren
Elizabeth as Bridget
The original tails were homemade by the mother of some of the cast, or in one case by Tori. In late September 2013, the creators uploaded a video announcing that they were having technical issues--Windows Movie Maker claimed their YouTube channel was only a Google account--and the show would have to go on hold until the problem was solved. A later update revealed that the channel was still refusing to cooperate, so a new channel was being created. New tails were ordered from Mermagica.
The new show, Secrets of a Mermaid, began a little while later on a different channel, and posts confirmed that Our Scaly Secret's channel could no longer upload videos. However, in April 2015, a new video came up on the original channel saying that the problem was resolved, and they were never leaving it again. Our Scaly Secret was getting a reboot. Filming began in May, with promises of episodes coming some time in June.
A video update appeared in August 2016, announcing that the show was no longer going to continue; too much had changed, and the channel still was uncooperative. The videos were taken down sometime after that point.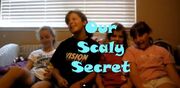 Mermaid Magic
Powerway
Mess'n [sic] With Powers
My Necklace
Finale*
Tidal Wave
Yoga Forest
Potion Madness
One More Mermaid
Holloween Decorations [sic]
Magical Dog Items
More and More Chocolate
Bridget's Babysitting
Mermaid Finale
Mermaid . . . Madness! Part 1
Mermaid . . . Madness! Part 2
Ingredients for Life
Bridget is . . . Nice?!!! [sic]
Back to Normal
The Spell
Annalise Overboard
Mermaid Finale
Colorado Adventure (Movie)
Mermaid Palooza
Watch Out, Mermaid!
Mermaid Test
Freaky Friday
More Mermaids, More Powers
Who's a Mermaid Now
Mermaid Secret
Rapids of Change
Siren's Call Part 1, 2
Our Second Chance: Season 1
Edit
- There is an alternate version of episode 5 labeled "Moving Scroll," essentially the same video minus sound.