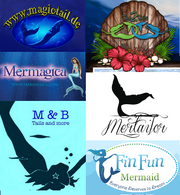 Tails obtained from a professional creator, such as Mertailor or Mermagica, or another non-dedicated site like eBay. These typically include a matching top, monofin and plastic sheath to give it shape.
As such, they tend to be rather expensive, with the cheapest around $50 and the  most expensive near $300.
Which tail company do you think is the best? Vote here.